TRULY FINE & TRULY PERSONAL JEWELRY
We create jewelry that is truly one-of-a-kind and will stand the test of time. Each Revere signet ring is hand engraved in the United States by a team of craftsmen dedicated to keeping traditional fine jewelry making alive. We know any jewelry purchase is an investment and we are proud to create jewelry that is truly worthy of it; jewelry to mark life's most important moments and memories, jewelry that will be passed from generation to generation.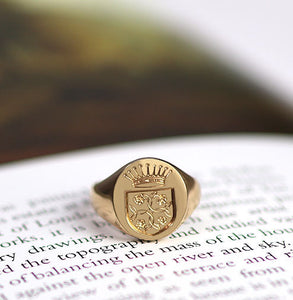 A difference you can feel
Our story of quality begins long before your design is carved into your jewelry. We craft all of our signet rings using the die-struck method – that is to say, the traditional way. This method uses intense pressure to create the ring's form, creating a more solid and durable ring than others made with molds. It also creates the perfect – and only – canvas that should be paired with the hand engraving process.
Our Engraving